Works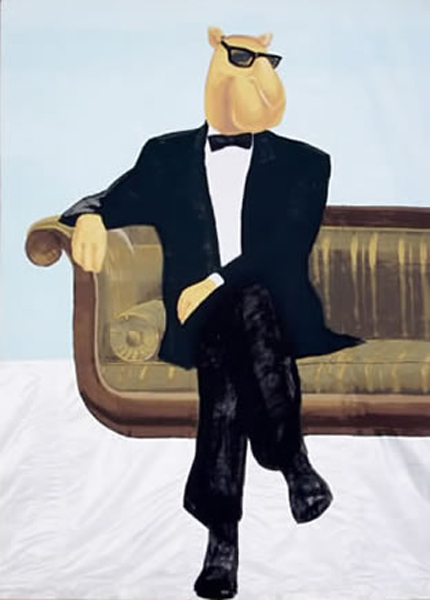 Vita
Zhou Tiehai's conceptual projects are symptomatic of the artist's contempt for the egocentricity of the art market. The radiance of his works, which both amaze and provoke, is the result of a series of strategies that mix antagonism and authenticity. The appropriation of classical image widths, the generation of ironic projections, the conduct of laconic but serious discourses, the debilitation of artistic-craft quality – all these are the ingredients that determine Zhou Tiehai's disturbing but also humorous way of working. He plays both the role of the artist and the boss, as many of his airbrush images are performed by assistants under his guidance. He allows himself to play with the historical ballast of art, i.e. he produces images that are at the same time self-conscious and self-denying; Virtuosity and pop right next to each other on the same screen. For his purposes, he manipulates the front pages of prestigious magazines and redefines the term "artistic action" within the coordinates of the art world and the global economy. He self-marketing with images that undermine the conventional notions of how artists should look and behave. Irony is arguably one of the main features of Zhou Tiehai's art. But behind the irony lies a real commitment – and a subjective force.
In the placebo series, Zhou Tiehai replaces the faces of the people pictured with a camel head with fashionable sunglasses. As models, he chose classic portraits of Leonardo da Vinci, Goya or lngres and
enlarged them. In these pictures, too, the airbrush technique neutralizes or destroys the "inspired" brushstroke – the trademark of the European masters as well as Chinese ink drawings. Zhou Tiehai spares neither of the two traditions. A placebo is, as is commonly known, a substitute drug. It is an ineffective substance that is administered to a patient in order to achieve a healing effect only because of his belief in it. The placebo in Zhou's work is perhaps the constructed pictoriality that preserves its illogical power and fascination, even though it constantly testifies to its unreality. It is critical art, but not in the conventional sense of the term. Although narrative traces of contemporary themes and the mechanisms of art reception can be found, Zhou Tiehai avoids clear value judgments. Instead, he presents the viewer with a highly complex work.
Zhou Tiehai was born in Shanghai in 1966 and attended the art school of the university in Shanghai, where he still lives and works today. Zhou Tiehai has had extensive exhibitions at prestigious international institutions such as .B: the Whitney Museum of American Art in New York, the Deichtorhallen in Hamburg, the Kunsthal Rotterdam, the Shanghai Art Museum and the Hamburger Bahnhof in Berlin. He was also on the 48th. Venice Biennale, the 5th Biennial of Shanghai as well as the 4th Biennial of Gwangju in South Korea.